Foodstuff mixing, feed mixing, chemicals mixing, premixed dry mortars for building industry are the main application of powders mixing.
CIMMA Ing. Morandotti & C. Srl designs and provides complete plants for the production of premixed dry mortars for building industry.
Our engineering service make us of the most advanced and up to dated technologies for transport storing dosing and mixing of powders .
Thanks to their high flexibility Cimma's multifunctional systems are able to meet different production requirements.
Cimma's engineering staff is ready for studying and solving client's requirement for research and operation activity.
Our reliability allowed us to become partner of the main companies producing dry mortars, glue for tiles and other products for building industries.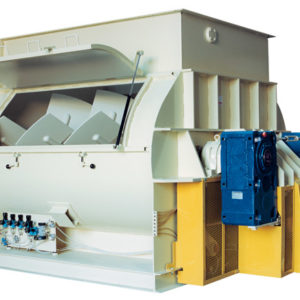 Perfectly homogeneous mixture (CV< 5-8), regardless of shape, density and granulometry of components also with very low amount of additives
• Fast mixing (usually less than 60″)
• Gentle mixing, brittle materials are not damaged
• Very suitable for addition of liquids
• Low operating cost (electrical and maintenance)
• High productivity