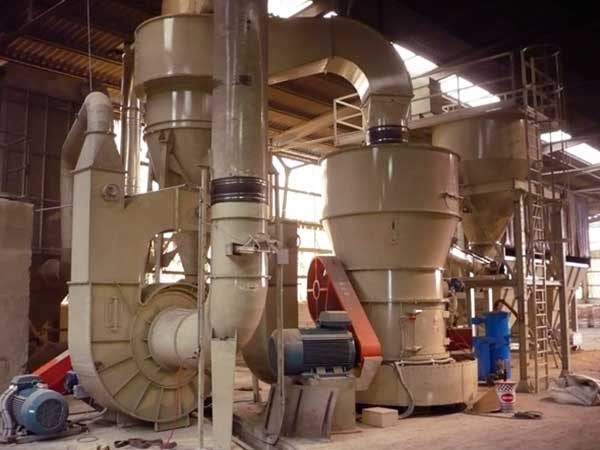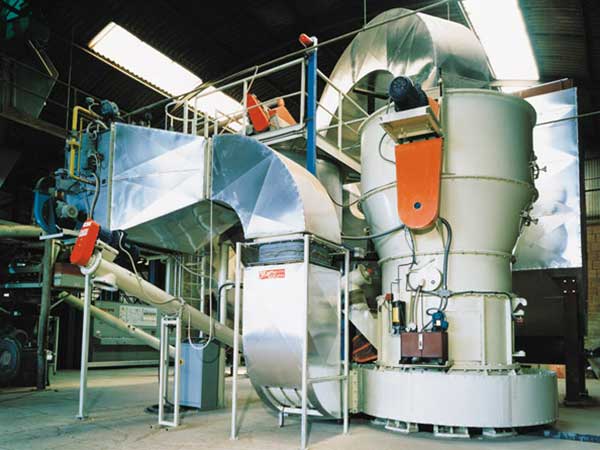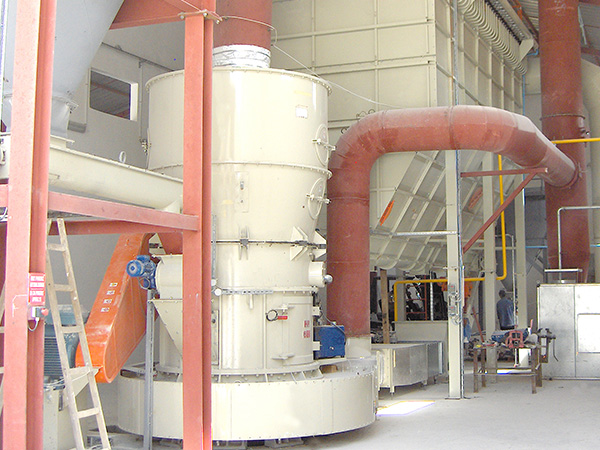 CIMMA pendular roller mills are used in hundreds of plants producing ceramic pressed tiles (gres, single fired, double fired), extruded floor tiles, klinker, roof tiles, flower pots. Inert raw materials can be ground mixed with clays.
The requested granulometry is easily obtained with the proper choice and regulation of the air classifier. Screening of the product is usually not necessary.
The ceramic bodies prepared with Pendular Roller Mills provide ceramic products with high mechanical properties and very smooth surface, free from defects. Clays with moisture up to 10÷12% are easily processed at full capacity and competitive cost with the introduction of hot gas through the mill.
The ROLLER MILL can operate in closed circulation of inert gas, controlled by suitable safety equipment.
In these conditions the Roller Mill can process materials, such as sulfur, subject to explosion when in contact with standard air.
These kind of mills are suitable for fine grinding of chemical products and minerals of medium hardness and abrasiveness.
Product fineness adjustable in the range 20÷400 micron (with dynamic classifier).
Production of FILLER of different minerals (0÷100 micron) with dry-grinding.
Low specific production cost, due to:
Low energy consumption
Reliable operation
Automatic control
Grinding bodies (grinding ring and rolls) in wear resistant alloys
Efficient drying by blowing hot gas through the mill
Dust free operation in open or closed air circuit depending on specific application
Capacity range 5÷20 ton/hour.
Mining industry
Chemical industry
Miscellaneous
• Talc
• Sulphur
• Coal
• Limestone
• Insecticides
• Graphite
• Marble
• Fertilizers
• Petroleum coke
• Dolomite
• Titanium dioxide
• Scraps of tobacco
• Barite
• Colemanite
• Kaolin
• Bentonite
• Magnesium oxide
• Phosphates
• Gypsum
• Lime
TIPO
PD 1200
PD 1504
PD 1503
mm
15 ÷ 30
15 ÷ 30
Diametro della pista di macinazione
mm
1200
1500
Numero dei rulli di macinazione
3
3 4
Potenza installata
Mulino
Kw
45
90
Ventilatore
Kw
37 ÷ 55
90 ÷ 110
Selettore dinamico
Kw
4 ÷ 7,5
7,5 ÷ 11
Peso del mulino + selettore
Kg
9000
15000
Capacità di essiccazione
max kg/h H20
400
1100
Produzione
Capacity:
Argille ed impasti ceramici, finezza inferiore a 300 micron
t/h
4 ÷ 8
12 ÷ 22
Calcare inferiore a 100 micron
t/h
3 ÷ 6
5 ÷ 10
Talco, caolino inferiore a 30
t/h
1,5 ÷ 2,5
2,5 ÷ 6
Rumorosità (1m) in assenza di dispositivi di insonorizzazione*
db
85
85
I dati e le caratteristiche della presente scheda sono informativi e suscettibili di variazione senza preavviso.